This is a list of the options of duct tape. This page is still being edited so new colors or patterns may be up soon! And photos of each tape should be up soon also!
If your interested in buying a tape please contact Miss DTQ and she will let you know if she can sell that color and if so for how much.
 When ordering please let Miss DTQ know what tapes you would like your creation done with. Certain tapes will make the creations costs more. Also certain brands can not be done in certain creations, but Miss DTQ will let you know when you aks for an item if it can not be done.
Heres a hint to find if I have a type of tape your looking for! Hit the control key and f key at the same time! A search bar should appear somewhere on your screen. Type in a tape your looking for and it should bring you to that tape if I have it. Or you can email me if you can`t find a certain tape.
Duck Brand Colors: 
Rainbow (Left Photo)                                                                                                    
Red Dragon (Right Photo)
Colorful Polka Dots (Top Middle Photo)
White Zebra

Pink Zebra (Left Photo)

Skulls (Right Photo)
Orange
Purple
Green

Paint Splatter (Left Photo)
Light Green

Aqua
Light Blue
Fire
Hello Kitty Body (Right Photo)

Purple Tie Die (Left Photo)
Regular Cheetah

Leaf Camo (Right Photo)
Dark Blue
Digital Camo
Yellow

Maroon (Left Photo)
White

Chrome
Checkered Board (Right Photo)
Pink

Blue Plaid (Left Photo)
Purple Plaid *Limited Supply!
Red 

Orange Tie Die (RIght Photo)
Rock`n`Roll ***Currently Unavailable for orders!

Butterfly (Left Photo)
Peace
Black
Houndstooth
Pink Polka Dots

Beige/Cookie Dough

Penguin (Left Photo)
Zig Zags (Right Photo)
Jeans
Moustache
Argoyle
Hawian Flowers

Hello Kitty body with peace signs

Cupcake (Left Photo)
Mario
Angry Birds (Right Photo)
Snowman
Gingerbread man
Ornaments

NFL teams

Sport Balls
Holiday Dots (Left Photo)
Purple Zebra
Green Zebra
Blue Cheetah (Right Photo)

Pink Cheetah
Hello Kitty Heads

Girly Skulls
Glow in the Dark (Left Photo)
Candy Corn
Candy Cane

Reindeer
Graffiti 1.0
Graffiti 2.0 (Right Photo)

Union Jack/ British Flag (Left Photo)
Gold
Spiderman (Right Photo)

Traditional Gray
Spiders
Baurque (Left photo)
Spongebob

Green Waves (Right Photo)
Skateboards

Bacon
Atomic Yellow
Justin  Beiber (Left Photo)
Peace Swirls
Pink Text
Flying Pigs

Wild Hearts
Pastel Pink (Left photo)
Pastel Yellow (Left photo)
Pastel Blue (Left photo)

Pastel Purple (Left photo)
Baa Baa Sheep (Middle Roll in photo on right)

Wall Flower (Bottom Roll in photo on right)
Retro Cherries (Top Roll in photo on right)
Spring Hello Kitty
One Direction 1D (Photo on Left)
Avengers
US Army
Owls
Trust-e Duck
Peace and Smiles *Five Below Exclusive

Paw Prints
Peacock Feathers
Baseball Teams (Red sox, Yankees, LA, Phillies, SF, T)
Fireworks
Red, White, and Blue Waves
Prism Dots
Prism Stars
Mickey Mouse
Miney Mouse
Tinkerbell
Despicable Me 2
Pickles Dill With It
Cotton Candy
Teenage Ninja Turtles
Cloth Sheet Dot Pattern
Cloth Sheet Wave Pattern
Rock and Roll I Love Music
Skulls, Hearts, and Lips
Prism Squares
Duck Dynasty
Ghostly Ghouls Halloween
Scary Chevron
Silver Glitter
Red Glitter
Star Wars
Phineas and Ferb
College Teams (Gators, Penn State, more available message me)
Paris
Comic Book
Christmas Bows
Cats and Dogs Christmas
Scottie Dogs
Neon Houndstooth
Emerald Tiles
Punk Music
Gummy Bears
Rainbow Tie Die
Emblem 3
Austin Mahon
Bandana
Flamingos
Pink Giraffe
Magenta Camo
Pink Camo
Circuitry
Patchwork
Purple Paisley
Princess (Disney)
Color Blocks Retro
Lemon Scented Yellow
Chocolate Mint Scented Green
Creamsicle Scented Orange
Grape Scented Purple
Bubble Gum Scented Pink
Mod Podge Mix and Match
Blue Owls
Love Signs
Scotch:
Reindeer
Gingerbread man
Paul Frank Monkey
Snake Skin (Top Right Photo)
Yellow Background Stars
Little Monsters
Paisley (Top Right Photo)

Game Design Bottom Right Photo)

Rainbow (Bottom Left Photo)
Lace Vegas (Top Left Photo)
Purple background with Red Lips
Retro Tiles (Bottom Left Photo)
Peace Signs (Top Right Photo)
Rainbow Stripes
Metallic Cupcake
SuperMan
Batman (GLOW IN THE DARK!)
Metallic Butterflies
Neon Sunglasses
Metallic Stars
Food Frenzy
Pink Pastel Cheetah
Metallic Polka Dots
Cupcakes
Paul Frank Rainbow
Neon Heels
Monster High Black
Monster High White
Barbie Faces
Barbie Zebra
Monster High Logo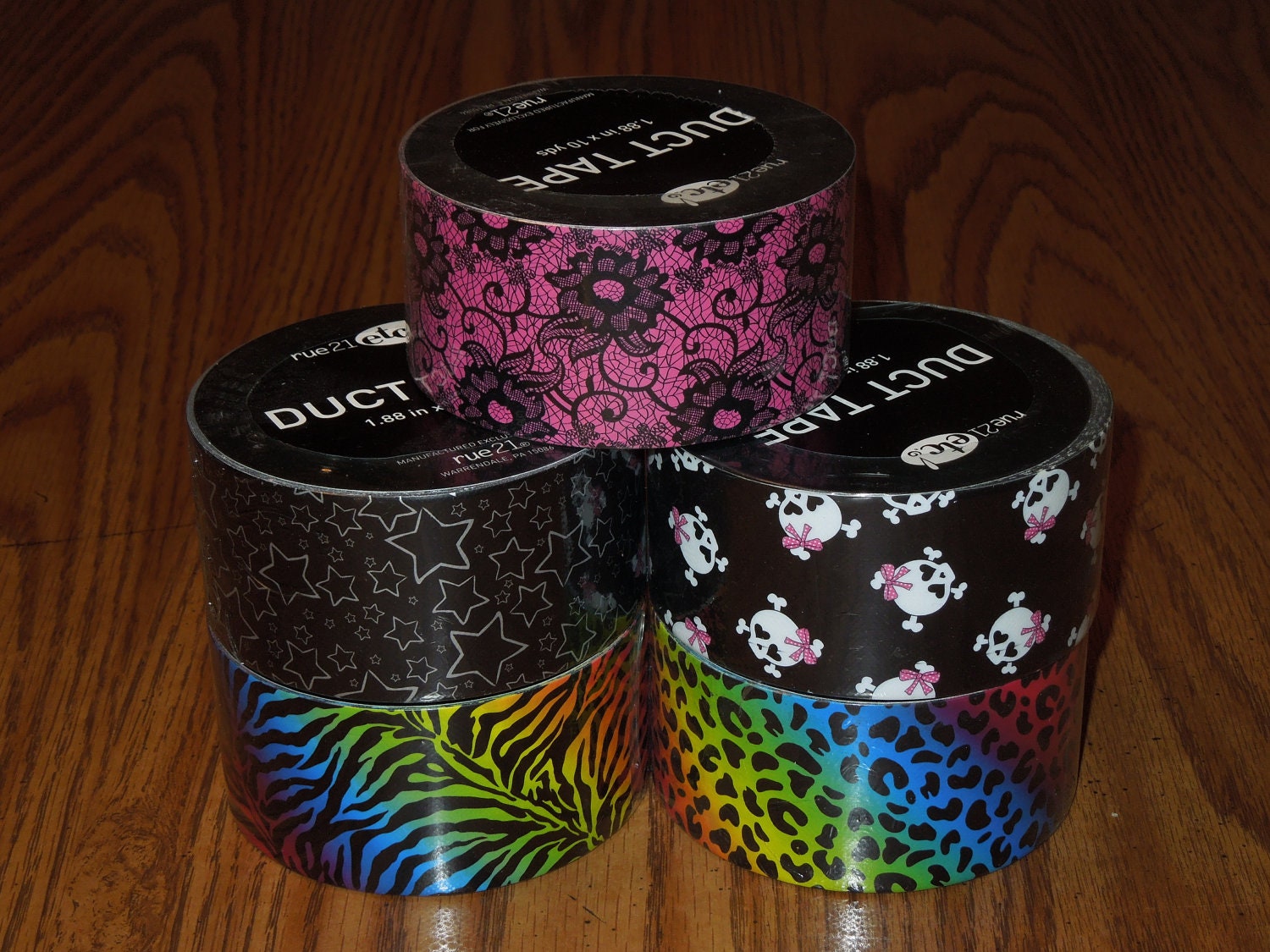 Rue 21: Discontinued Tapes!
I Heart Moustaches (Middle Photo)
Moustaches with eyes
Smiley Faces with Moustaches (Right Photo)
Rainbow Leapord (Left photo bottom right)
Light Rainbow Leapord
Rainbow Zebra  (Left photo bottom left)
Light Rainbow Zebra
Stars  (Left photo middle left)
Pink and Black Lace  (Left photo top)

Colorful Moustache Faces
Pink Background with Black Lips (Left Photo)
Colorful Hearts
Skulls with pink bows  (Left photo middle right)
Blue Zebra
Platypus:
Green and White Yarn
Skulls
Diamond Plate
Pink Polka Dots
Cheetah
Blue and White Paisley (photo top)
Houndstooth (Photo bottom)
Blue and Green Argoyle
Picnic Table (Right Photo)
Green
Leather
Blue Chevron
Hearts
Black Picnic Table
Grass
Other:
Smiley Faces
Rainbow Tiedie
Guitars
USA Flag
Snowflakes
Fireworks
Pink Camo
Pumpkins
Spiders
Skulls
Monster High Faces
Rainbow Zig Zags
Lace
Monster High Plaid
Harley Davidson
Cupcakes
Frosty the Snowman
The Abominable Snowman
Rudolph the Red Nose Reindeer
The Evil Witch Wizard of Oz
Dorothy Wizard of Oz
Red Heels Wizard of Oz
Orange Polka Dots
Purple/Orange Chevron
Blue Polka Dots
Purple Polka Dots
Glow Non Duck Brand:
Cats with Glowing Pumpkins
Spiders and Spiderwebs
Glow Background with Ghosts
Solid Glow
Zebra
Packaging Tapes:
Pink and White Zebra
Disney Miney Mouse
Candy
Black with Neon Circles
Camo
Moustaches
Caution
Reindeer
Black and White Paisley
Moustache
Blue Christmas
***More Duck Brand College Team Tapes are available but with a products that total $25 or more!